Welcome
Welcome to the U.S. District Court for the Central District of Illinois. This federal trial court serves the forty-six counties in the heart of Illinois. This court hears cases in Peoria, Urbana, Springfield and Rock Island.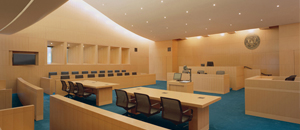 Court Locations
Contact the Clerk's Office using the appropriate addresses and telephone numbers below with any questions about cases which are, or have been, before the Court.
All Clerk's Offices are open from 8:00 a.m. until 5:00 p.m., Central Time, Monday through Friday.
Juror Reporting Information: 1-800-860-8044
Individuals participating in federal court proceedings who's primary or only language is one other than English, who are hearing-impaired, or have communication disabilities should contact the access coordinator for assistance.
PUBLIC NOTICE - LOCAL RULE CHANGES
The Court has approved changes to the following Local Rules:
 
Civil LR 5.3(B)–(D)
Civil LR 5.4
Civil LR 5.5
Civil LR 5.7
Civil LR 7.1(B)(1)
Civil LR 7.1(B)(4)
Civil 7.1.1
Civil LR 16.1(C)
Redline version of the changes can be seen here.
The Court will accept written comment on this action through July 10, 2023, via email to ilcd_localrules@ilcd.uscourts.gov or mail to Shig Yasunaga, Clerk, U.S. District Court, 600 E. Monroe Street, Room 151, Springfield, Illinois 62701.